In recent years, companies involved in the footwear industry have been investigating and experimenting with the potential capabilities of new processes in the manufacture of their products. Among the primary aims have been the goals of discovering ways to design and produce footwear products both quicker and at lower cost.
adidas, for example, commenced in 2014 to investigate additive manufacturing, more often known as 3D printing, as an alternative manufacturing process. And then, in 2016, the company released limited edition sports footwear under a new brand, Futurecraft 3D, in which the mid-sole was 3D printed.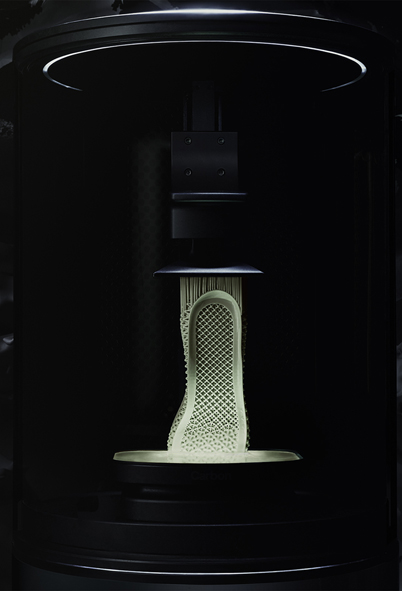 Now, adidas has announced that it has made a further significant strategic shift. adidas has been collaborating with a Silicon Valley-based company, Carbon 3D Inc. Carbon 3D has developed new production techniques which have potential applications not just in footwear but also for a diverse range of potential needs and products across the manufacturing sector. These techniques have the potential to provide massive benefits to adidas as well as to adidas' customers.
As recently disclosed by adidas and Carbon 3D, one of the new techniques developed by Carbon 3D and being incorporated into the production of adidas' next generation of sports footwear is Digital Light Synthesis.
The Digital Light Synthesis process as applied by adidas does not require any moulding as has been common in much shoe manufacturing in recent decades. Rather, the process involves the use of liquid polymers, which have been developed by Carbon 3D, combined with the latest in associated software developments. Using digital technologies, ultra-violet light and oxygen are applied to various parts of the polymeric resin, a liquid polyurethane. The resin hardens in places where the light hits yet remains in liquid form wherever oxygen is applied. This process gives new and highly flexible capabilities to develop complex solid, yet elastic, structures that would otherwise prove difficult if not impossible to design and then produce on a large scale.
So it is that adidas are applying this technique to manufacture the mid-soles of their new footwear. Continuing the Futurecraft brand, the new footwear is being marketed as Futurecraft 4D.
By having collected the running data of many individual athletes over a 17-year period, adidas has been able to analyse that data to far better understand athletes' requirements in different zones of the mid-sole. By applying that knowledge together with Digital Light Synthesis processes and digital design, adidas can create a single mid-sole for their sportswear shoes as one single elastomer component. The soles can be designed with a range of intricate structures at differing parts of the shoe mid-sole. For example, a different support structure can be incorporated into the mid-sole at the toe end to meet localised functional needs while meeting another set of functional needs through a very different physical structure of the elastomer for the heel, for instance.
The innovative processes also bring enormous potential for tailoring product to each customer's requirements. This means that, ultimately, even if not in early production runs, each pair of running footwear can be designed and manufactured to address the particular needs of each individual customer. This can bring mean greater satisfaction for each customer in terms of movement, cushioning, stability, as well as comfort. And it also means for adidas the potential to create bespoke footwear products tailored to each individual's height, weight, and walking or running gait.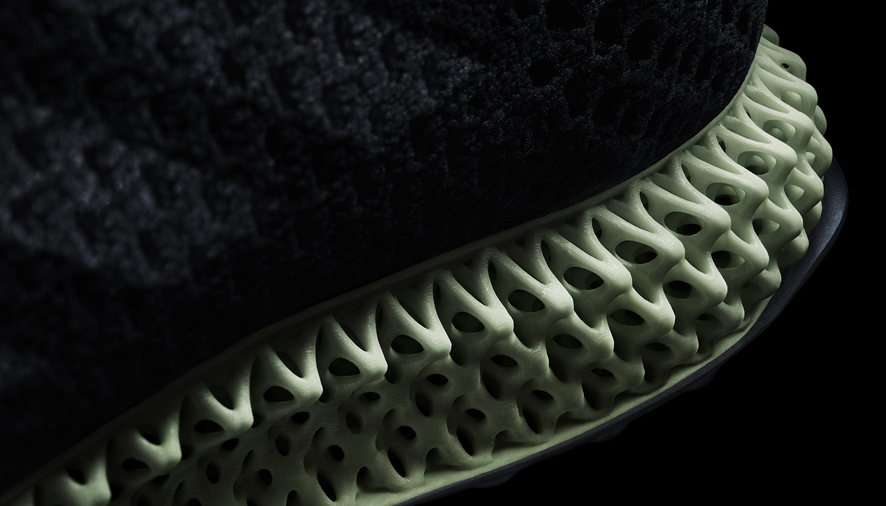 In addition, using the associated software, adidas is now able, prior to the manufacture of any new footwear design, to analyse a far wider range of potential designs of the mid-soles and do so within a much shorter time frame than was previously possible in order to arrive at an optimal design. The longer production life cycle that previously involved the largely iterative steps of Design, Prototype Development, Tooling, and Production can now be significantly shortened as the repeated phases of Prototype Development and Tooling can be eliminated from the entire process. With the digital technologies involved, much of the experimentation and refinement of design that may have previously taken place through the development of multiple prototypes can be incorporated into the Design phase. And with Carbon 3D's proprietary Continuous Liquid Interface Production (CLIP) technologies, the repetitive tooling phases are also now effectively obsolete. Hence, adidas may well have created a competitive advantage through a far reduced time period between the commencement of a particular footwear design and the release of the new product into the market. Quicker availability of final product to the consumer can render a competitive advantage and mean more flexible adaptation to market needs.
Starting at small-scale production, adidas will, with the backing of Carbon 3D, progressively scale-up their production processes of the Futurecraft 4D shoes. The initial release (apparently specifically available only to friends and relatives of adidas employees) consists of a mere 300 pairs. A larger production run of approximately 5,000 pairs will be released more widely into the retail market during the northern hemisphere's Autumn / Winter period. And then, in 2018, as mass production capabilities are raised, a further 10,000 pairs are expected to be manufactured and available through retail outlets.
For adidas the potential advantages of these technology breakthroughs are many. They include quicker design time of new styles in response to market trends, lower costs of production, as well as a considerable increase in production speed. They also mean that adidas can far more accurately tailor shoes to the individual customer's needs with complex structural design variations as may be required. Digital Light Synthesis also results in a product with a higher quality finish compared to that currently possible with 3D printing techniques as well as a wider range of possible colour variations. And ease and flexibility in the scaling of manufacturing can assist in ramping up production to desired mass-production levels.
What we, as consumers, can expect in the future from these leaps forward in technology and from the collaboration between adidas and Carbon 3D includes quicker delivery to market of a more innovative range of sports footwear, shoes that will be tailored to our physical structure as well as our walking and running styles, shoes that render greater comfort.
---
AUTHOR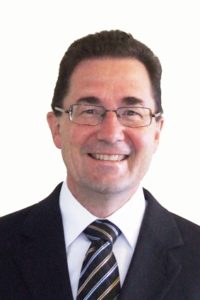 Lloyd Conrade
Editor
---
Media Credits:
All Futurecraft 4D Images and Videos

'Adidas Futurecraft 4D Footwear"